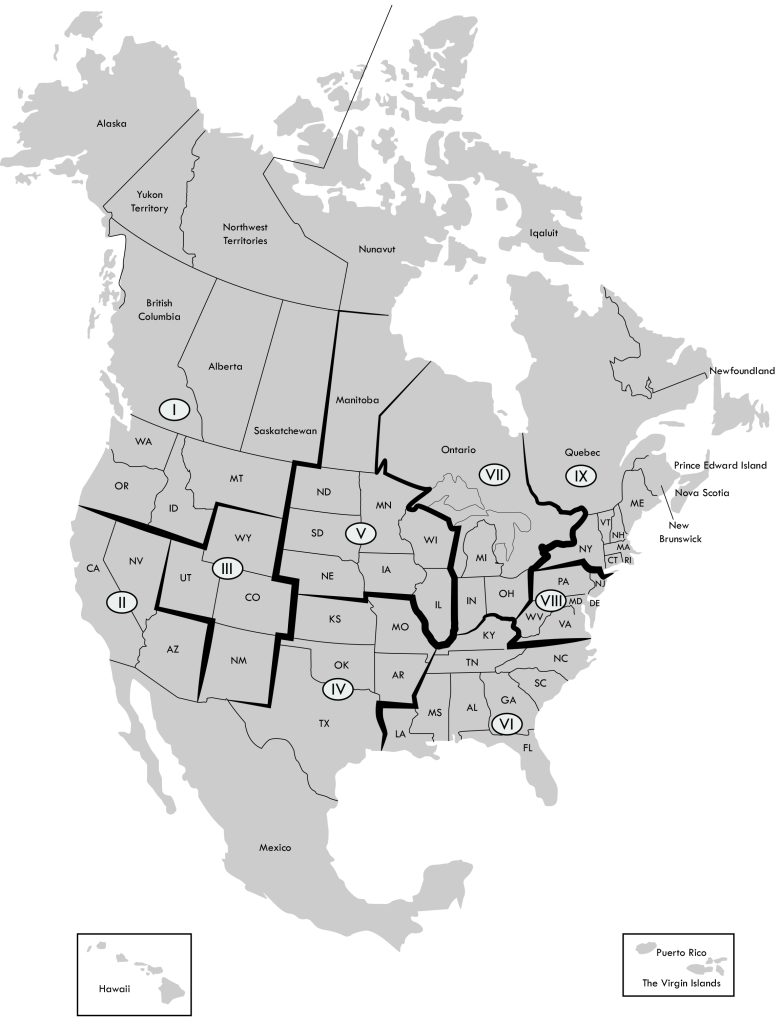 WA, OR, ID , MT, AK, BC, AB, SK, YT, NT, NU
Region I, though geographically dispersed over a large landmass is definitely mighty in spirit. Members of Region I have made it a tradition to get together during the annual conference for an all-region dinner outing. Regional conferences are typically hosted on-site at the host campus and over the past few years, two-year and community college members have come together for drive-in meetings and conferences. As with many regions, t-shirt swapping and sticker sharing is highly encouraged at regional and annual conferences
CA, NV, AZ, HI
Region II rocks! Region II is known for enthusiasm. The regional conference rotates through the region, highlighting the host institution's characteristic via hotel-based programming. Regional conferences provide an opportunity for professional development for both students and professionals through educational sessions, case study competitions, roundtables, and informal networking. Special interest groups (Pac 10 schools, CSU system schools, etc.) within the region have also hosted drive-in workshops.
WY, UT, CO, NM
Region III is a small but mighty region consisting of schools in Colorado, New Mexico, Utah, and Wyoming. Each year at the regional conference an Outstanding Student Orientation Leader award and more recently the Outstanding Orientation Professional award are presented. During the regional conference, an undergraduate case study competition is conducted as well as a t-shirt / sticker swap which is very popular among the undergrads. The region plans to host drive-in conferences in the future and continually encourages members to become involved in NODA
TX, OK, KS, MO, AR
Region IV is MORE! Region IV may only represent 5 states (Missouri, Kansas, Oklahoma, Texas, and Arkansas), but we are mighty and have lots of regional spirit and pride! Our regional conference is proud to host annual traditions such as outstanding educational sessions by students and professionals, great opportunities for leadership development for undergraduates, Roll Call, T-Shirt Swap and the always popular Skit and Song Competition.
NE, IA, IL, ND, SD, MN, WI, MB
Members within Region V have a strong and proud tradition of involvement in all levels of NODA. Numerous states within the region host drive-in workshops and produce newsletters to serve not only as professional development, but to keep the members up to date with NODA and regional news. Traditions at the regional conferences include the roll call, undergraduate case study competition and the closing brunch fashion show.
LA, MS, AL, GA, FL, TN, KY, NC, SC
Region VI is one of the larger NODA regions; consisting of nine states. Region VI is known for its NODA involvement, spirit, energy, and as the annual home to NODA's largest Regional Conferences – SROW (Southern Regional Orientation Workshop).
IN, MI, OH, ON
NODA Region VII is home to a vibrant community of NODA members and educational and professional development events both in the states and in Ontario! We have a history of successful regional conferences that rotate through each of our state and provinces and a vibrant membership with a history of NODA leadership. With a new regional structure in place in 2019, the Region VII Regional Leadership Team is looking forward to exciting new programs and initiatives that the decades of previous, strong leadership paved the way for!
PA, NJ, MD, DE, WV, VA, DC
Region 8 is GR8! Region 8 is the Mid-Atlantic Region, ranging from Virginia north to Pennsylvania. We are a medium-sized region full of character and made up of a close knit community of professionals, graduate and undergraduate members. We have traditionally held a Regional Conference between late February to early April. Traditions for undergraduates at the Regional Conference include the Returning Orientation Leader Institute (ROLI), an undergraduate case study competition and the swag swap. For professional and graduate staff, Region 8 aims to hold one drive-in event each fall and a NODA grad intern meet-up each summer. We are also working to enhance the professional experiences available during, as well as outside of, the regional conference. It is no surprise that "Region 8 is GR8!"
NY, VT, ME, MA, CT, RI, QC, NB, NS, NL, PE
Region IX– So Fine! So Kind! The region is a small region by geographic size but we are full of unique, innovative and diverse members from both urban and rural campuses. This diversity offers an opportunity for learning from all aspects of orientation, transition, and retention. Our region holds an annual conference that rotates throughout the member states full of fun and community oriented event. The Returning Orientation Leader Institute or ROLI, originated in Region IX and is now a staple at all regional conferences throughout the country. This immersive experience allows upper-division undergraduates an opportunity to focus on more intensive learning and leadership development during the regional conference.